Titanium model casting - dental prosthesis produced in 3D printing process!
The digital production of titanium model casting described in brief:
- Fabrication on delivered plaster model, we design and deliver the finished titanium model casting
- Delivery of an impression, we manufacture a model, design and deliver the finished titanium model casting
- The dentist transfers a digital impression of the patient's oral situation with a mouth scanner, DMC-Cologne produces a 3D model, DMC- designs and delivers the finished titanium model casting.
- Delivery of a digital 3D model, with the help of a CAD/CAM system, DMC COLOGNE creates a 3D model, DMC-Cologne designs and produces a digital titanium model casting for you in contract work, according to your specifications.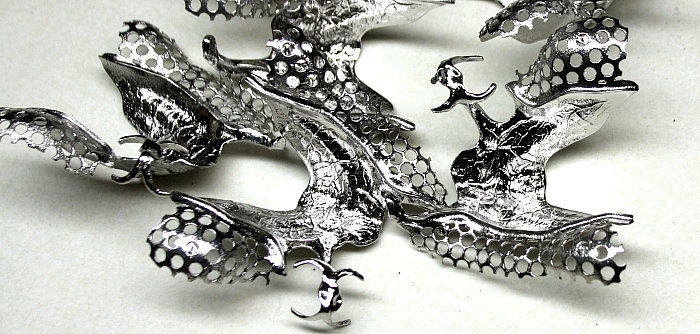 Titanium model casting:
Titanium model casting on scan data set (based on a supplied STL-3D design) 250,00 €.
Titanium model casting with 3 clamps on plaster model (based on a delivered model) 285,00 €.
Titanium model casting fabrication:
DMC Cologne produces your desired digital titanium model casting using a digital 3D printing process in combination with a proven high-performance titanium vacuum die casting technique.
Proven technology has been further optimised, that for years, excellently suitable arc melting processes for melting before titanium have been retained and is used with a vacuum die-casting process programmed exactly to the required amount of metal.
A high-performance vacuum pump in combination with the optimum pressure of the medical argon used guarantees a uniform flow of high-purity argon inert gas around the titanium melt.
The DMC used 3D titanium die-casting technique is a real alternative to titanium laser melting or the titanium SLM model casting technique.
SAE spark erosion:
For the production of telescopic, transom and bar work, DMC Cologne uses CADCAM milling technology in combination with SAE spark erosion.
The spark erosion technique enables a gap-free and stress-free passive fit on dental implants.
SAE bars allow easy insertion and removal without friction loss in bar and combination work.
An easy insertion and removal of the prosthesis is particularly desired for older patients.
Titanium laser dental technology:
Titanium laser connections in dental technology only function with the use of inert gas argon 5.0, it has a necessary degree of purity of 99.999%.
All titanium welding connections are carried out at DMC Cologne using the latest laser inert gas technology, using medical 5.0 argon inert gas.
You will receive a model casting from DMC Cologne, which is polished to a mirror finish.
delivery time:
from arrival of a plaster model 4 working days, plus 1 day shipping
from the arrival of a data set from a model scan or intraoral scan 5 working days, plus 1 day shipping
Completion of a titanium model casting with clasps